Disclaimer: FishTechOutdoors is community supported. We may earn a commission when you make a purchase through one of our links. As an Amazon associate, we earn from qualifying purchases. Learn more.
The Best Trolling Motor for a Fishing Kayak
So you've decided to add a trolling motor to your kayak fishing setup. That's a wise choice - but it's important to select the right one as they're not all made for kayaks.
Last updated: April 14, 2023
By: Jon Stewart and Brandon Sanders
As kayak fishing increases in popularity thanks to the extreme costs of boats, finding a good kayak trolling motor is becoming increasingly important for a lot of anglers.
When it comes to any legitimate kayak setup for fishing, a trolling motor is a must. ✅
It simply allows you to go farther, stay longer, and be more precise with your fishing. For those that simply want a way to get around without having to paddle or peddle, a trolling motor is the most underrated part of kayak fishing. Given the vast array of uses for kayaks these days, the quest for the optimal trolling motor is a complicated one.
However, when you attach a trolling motor to a kayak, you change the nature of the boat entirely. Now, it is no longer reliant on your physical inputs to move forward and steer.
This leaves the operator with added responsibility along with a much more robust capability on the water. Remember no matter what, you should always get an appropriate boater education for your state to be both safe and legal.
Ready to learn about the top trolling motors for kayaks that can take your fishing to the next level?
Let's dive in!
Best Trolling Motor for a Kayak 🏅
Top Trolling Motors Specifically for Kayak Fishing 🏆
There are so many great trolling motors available for a variety of vessels. But when it comes to the angler whose preferred vessel is a kayak, which trolling motor is a match made in heaven? What are the important features the angler should look at?
Not to worry! We've done all the research for you. To learn about the premium trolling motors for kayaks, just keep reading.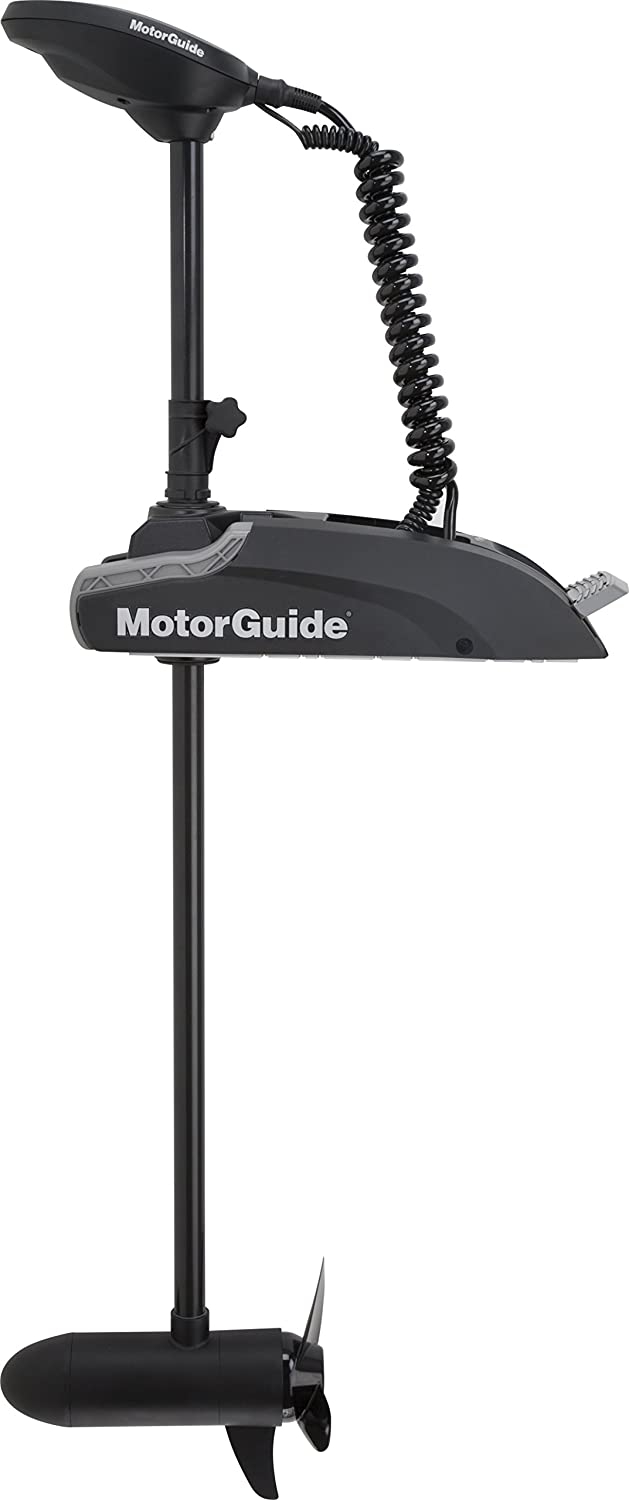 The Motorguide Xi3 is collapsable and comes with a foot pedal system making it ideal for kayak fishing.
Pros:
✅ No cables
✅ Wireless / remote controls
✅ Modern technology for very easy use
✅ Incredibly efficient
✅ Specifically built for kayaks
Cons:
⚠️ Mounting system is complex for new kayak fishermen
⚠️ Expensive
securely, on Amazon's website
There are so many kayak trolling motors out there to choose from. But only one of them deserves the #1 spot. And after about 77 hours of combined research from our team, we've named the MotorGuide Xi3 as the premier kayak trolling motor. For a number of reasons which we elaborate on below, this trolling motor has what it takes to take any kayak fisherman to the next level. Let's understand why.
Technical specifications:
Shaft: 36''

Thrust: 55 lbs

Voltage: 12 VDC
An underrated by significant benefit with the MotorGuide Xi3 is the lack of messy cables. For experienced kayak anglers out there - they know all too well the hindrance that excess cabling creates. Yet this modern trolling motor no longer uses heavy control cables to help it traverse. Instead, it uses motors with rollers that are built into the cradle. This frees up deck space and makes it much easier to operate.
Another major benefit: the MotorGuide Xi3 is controlled wirelessly. Being able to control a kayak remotely is not only hugely convenient, but it is a major safety enhancement. Having the ability to bring your kayak to you when it drifts away, you fall out, or at the boat launch is an incredibly useful feature that serious kayakers will enjoy.
Plus, in terms of design and functionality, this kayak trolling motor is incredibly modern. While this is a broad pro, it is also an accurate one. Modern-day trolling motors integrate GPS and bluetooth technology to enhance the trolling motor's capability. The Xi3 lovingly embraces these technologies so that the kayaker can automate much of the mundane trolling motor tasks, track where they have been, and enjoy enhanced safety. These little things help the angler focus on catching bigger fish.
The Xi3 is also very efficient in its operation. This is an extreme advantage over many other trolling motors as it will require less power to achieve certain levels of thrust. When that happens, the batteries onboard will last a lot longer. That gives the kayaker the ability to either go farther and fish longer or to simply carry a smaller battery.
As kayaking gets more and more popular as a fishing platform, there is a much bigger appetite for employing trolling motors to increase their mobility. The trolling motor manufacturers are slowly starting to catch on to this trend and are tailoring certain models to the market. The Xi3 is the best in the business as of right now, as it was specifically built for use with kayaks.
Without a doubt, the MotorGuide Xi3 will help you cover more ground in a very efficient manner - so you'll be able to catch more fish. If you want to level up your fishing game with a kayak trolling motor, we believe the Xi3 has what it takes.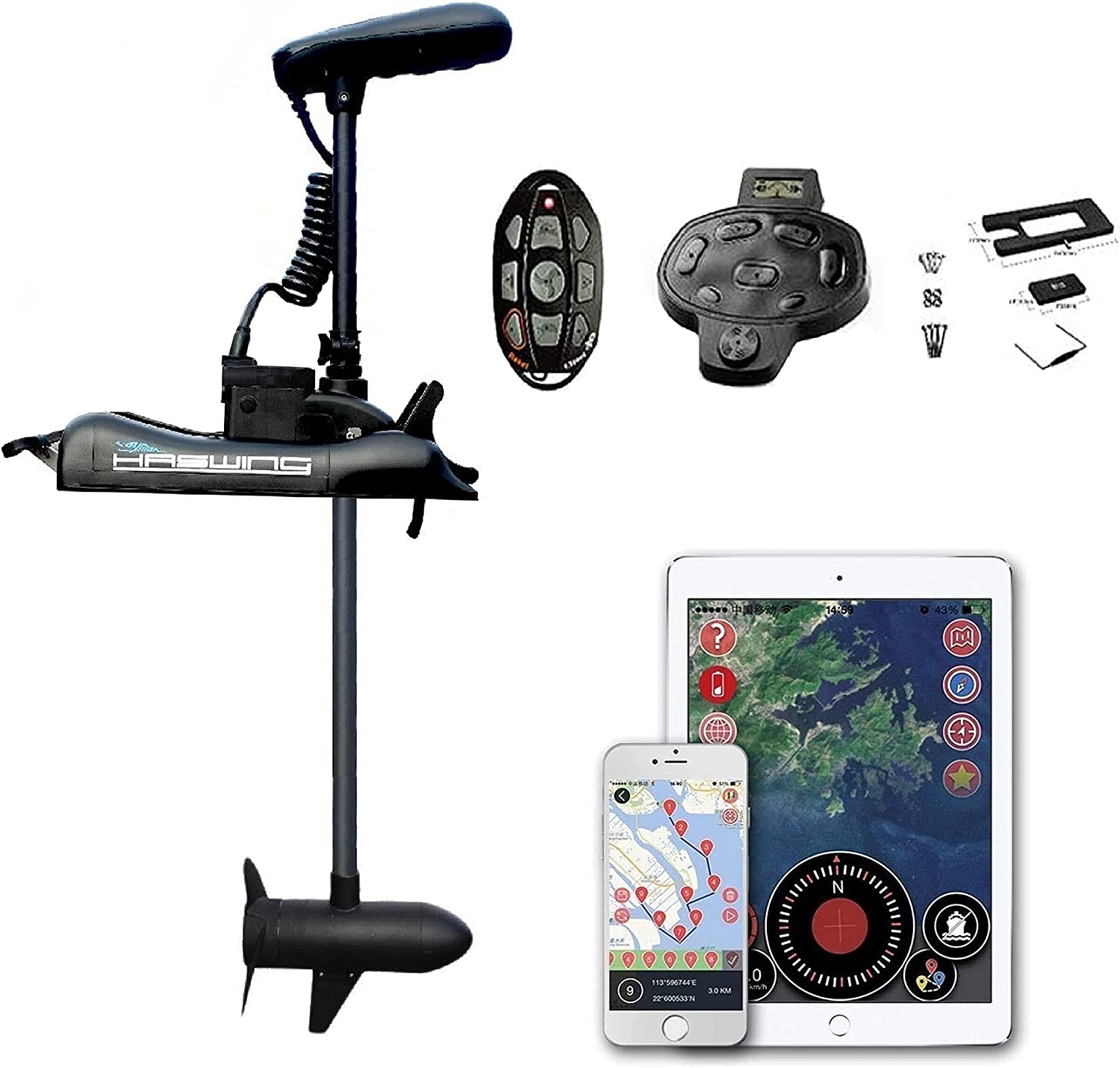 The Haswing Cayman GPS offers a state of the art wireless control system so anglers can focus on fishing.
Pros:
✅ GPS integration
✅ Affordability
✅ Automated autopilot feature
✅ Control the motor directly from a smartphone
✅ Larger prop
Cons:
⚠️ Small manufacturer
⚠️ Some reported deactivation problems
securely, on Amazon's website
With all things considered, we see the Haswing Cayman GPS trolling motor as the best runner-up for kayak fishing. The trolling motor is loaded with features that fishermen will love—and those fishermen will love the price too. Let's learn more about this model.
Technical specifications:
The Haswing Cayman GPS comes with a built-in GPS feature. Having GPS integrated into your trolling motor is a serious advantage. It will allow you to chart a course for autopilot, track where you have been, and mark spots that are of interest. If you are looking at keeping a fishing log, having a GPS enabled trolling motor will greatly help with that endeavor.
One of the advantages of buying something from a smaller manufacturer is you get a break on the price. Considering the cost of a kayak, electronics, tackle, and all of the gear that goes along with kayak fishing, this is a huge advantage. The most popular trolling motors for fishing kayaks are quite expensive - but relative to that class of trolling motors, this one is quite affordable.
Further, just like with the Xi3, the Cayman is automated and will allow for autopilot. If you find yourself returning to the boat ramp and have a lot of things to do onboard or simply want a break to enjoy the scenery, this can be very helpful. It is also crucial for trolling.
There's also a phone integration. As stated previously, being able to connect to your trolling motor via your phone is a huge advantage. Not only does it provide for another means of control, it also lets you download software updates by your phone.
There is an ideal prop size for every trolling motor. The vast majority of trolling motors have props that are too small. This leads to power not being fully leveraged for speed and performance. The Cayman has a prop that is of appropriate size to convert all of its significant power to forward momentum. The prop is larger than the majority of other trolling motors for kayaks—which is another advantage to consider.
But this doesn't mean that the Haswing Cayman doesn't have a few disadvantages. For one, it's manufactured by a pretty small manufacturer. While it's great to support small businesses, getting parts and service can sometimes be a challenge.
There are also some reported deactivation problems, where some users are not able to get the unit to shut down properly. Since the Cayman is mostly digital, you have to make it go through an internal shut down sequence. If there is a bug in the code that prevents it from beginning or completing the sequence, it will just stay on. This is easily dealt with by simply disconnecting power, but for an advanced unit you shouldn't have to do that.
All in all, if you're looking for a reliable trolling motor for kayak fishing, you really can't go wrong with the Haswing Cayman.
The Newport Vessels trolling motors are simple - but affordable.
Pros:
✅ Built for both saltwater and freshwater
✅ 10'' prop
✅ Affordability
✅ Comes with reliable warranty
Cons:
⚠️ Head is not 100% waterproof
⚠️ Weight is on the heavier side
⚠️ Battery life will not be ideal
securely, on Amazon's website
Quality kayak trolling motors are expensive - but that's where the Newport Vessels Kayak Series stands out among the crowd. If you're on a limited budget and are looking to stretch every dollar of that budget, then this is likely the trolling motor for you.
Technical specifications:
Shaft: 24''

Thrust: 55 lbs

Voltage: 24 VDC
Many trolling motors are built for either freshwater or saltwater - but not both. Typically you have a level of protection against corrosion on the saltwater models that does not exist on the freshwater models. In the case of Newport's trolling motors, they only produce one model that can be used for either. They manage to do this without ramping up the cost of their units which is a serious advantage of anglers looking to fish in both lakes and the ocean.
It also boasts a whopping 10'' prop. Having a large prop with a motor that can turn it at an RPM that will allow for a high level of thrust to be generated is huge for the kayaker. This means that all the power that is generated by the motor is efficiently converted into forward thrust.
With its price, Newport can't really be beat in this sector. Trolling motors are getting more and more expensive as they get more sophisticated. Newport has managed to keep their price low while still allowing for the trappings of modernity to be worked into their designs. This allows for the kayaker to enjoy having a modern trolling motor without breaking the bank.
With many smaller manufacturers there are quality and warranty concerns. Newport put those fears to bed when they added a two year, limited warranty to their trolling motors. This will allow for the kayaker to purchase their trolling motors with a peace of mind about its quality and performance.
But it's not a perfect trolling motor. It goes without saying that a trolling motor must be fully waterproof. Yet, with this trolling motor, the head is not waterproof. This is significant and concerning since that is where all the electronics are held. Therefore, it is not advisable to use this trolling motor in the rain or on a boat that could easily be rolled over.
For trolling motors, Newports are heavy. When you consider the limitations of a kayak, weight is a significant concern. One of the major drawbacks of the Newport is the weight it brings with it.
When you get a budget trolling motor, those sacrifices result in a high amp draw to reach the level of thrust you need to move the kayak. As a result, the Newport draws much more power than many other trolling motors would at the same level of performance.
When everything is reviewed, the Newport really can't be beat for its price. It won't take the gold medal in every category - but it's a solid kayak trolling motor for the cost.
The Watersnake Tracer is affordable and offers serious value for the kayak fisherman.
Pros:
✅ Aluminum mount which is strong, light, and corrosion resistant
✅ Three-blade prop
✅ 30'', 36'', 42'' shafts
✅ Noise level is low
Cons:
⚠️ Only transom mountable
⚠️ Weight
⚠️ 30 lbs thrust (low)
securely, on Amazon's website
The Watersnake Tracer makes our list as one of the leading trolling motors for kayaks. The most compelling attribute of this trolling motor is its incredible affordability. For the price of one of the top tier trolling motors you could effectively outfit several boats with Watersnake Tracers. While the performance is incredibly underwhelming, for the right angler it could be the perfect fit.
Technical specifications:
Shaft: 30'', 36', 42'''

Thrust: 30 lbs

Voltage: 12 VDC
Today, it's common for trolling motor mounts to be made out of composites or plastic. While these are great for weight and corrosion, the WaterSnake Tracer comes with an aluminum mount which is very strong, light, and is highly corrosion resistant.
Three Blade Prop- Many trolling motors attempt to make use of their prop by adding bigger blades. This increases the torque on the motor and slows the head speed down significantly. Given the extreme possibility of weeds and other debris, it is better to achieve the same level of surface area on the prop by having multiple blades that are shorter. This allows the head speed to stay high while producing the amount of thrust that is needed for performance while cutting through grass, weeds, and other debris.
The Watersnake Tracer also features several different shaft lengths to choose from: 30'', 36'', 42''. Having multiple shaft lengths to choose from allows you to customize your trolling motor mount and stow system to fit your kayak. Given the breath of possibilities there are with kayaks, this is an essential element in selecting the right trolling motor for you.
On many waters, the fish are subjected to frequent noise that elevates their stress level and scares the baitfish away. Finding large bass often requires seeking out places that other people don't want to go. When you are there, it is paramount that you maintain a level of stealth - which is why kayak anglers choose kayak fishing in the first place. The Tracer allows you to do this at a very affordable level with its low noise output.
Yet this kayak trolling motor is only Transom mountable. This is a serious limitation since not all kayaks can facilitate a transom mount. Additionally, not all kayakers want a transom mounted trolling motor. Many want it to their side or on the bow. However, with this trolling motor you are limited to only the transom.
It's also not super lightweight for a trolling motor. 27lbs is quite heavy for a trolling motor. Since it does not use composite material, you are forced to deal with the weight of the motor, the shaft, and the mount. While 27lbs doesn't seem like much, it is a significant fraction of the usable load of many different boats.
The Watersnake Tracer features 30 lbs of thrust. This is extremely low compared to many of the competitors in the industry. The standard trolling motor typically pushes a kayak with 55 lbs of thrust. This trolling motor is basically half of that with much more weight.
After a thorough review, the Watersnake Tracer is a great kayak trolling motor for the angler on a limited budget and who doesn't want to spend more than a few hours on his or her kayak at a time.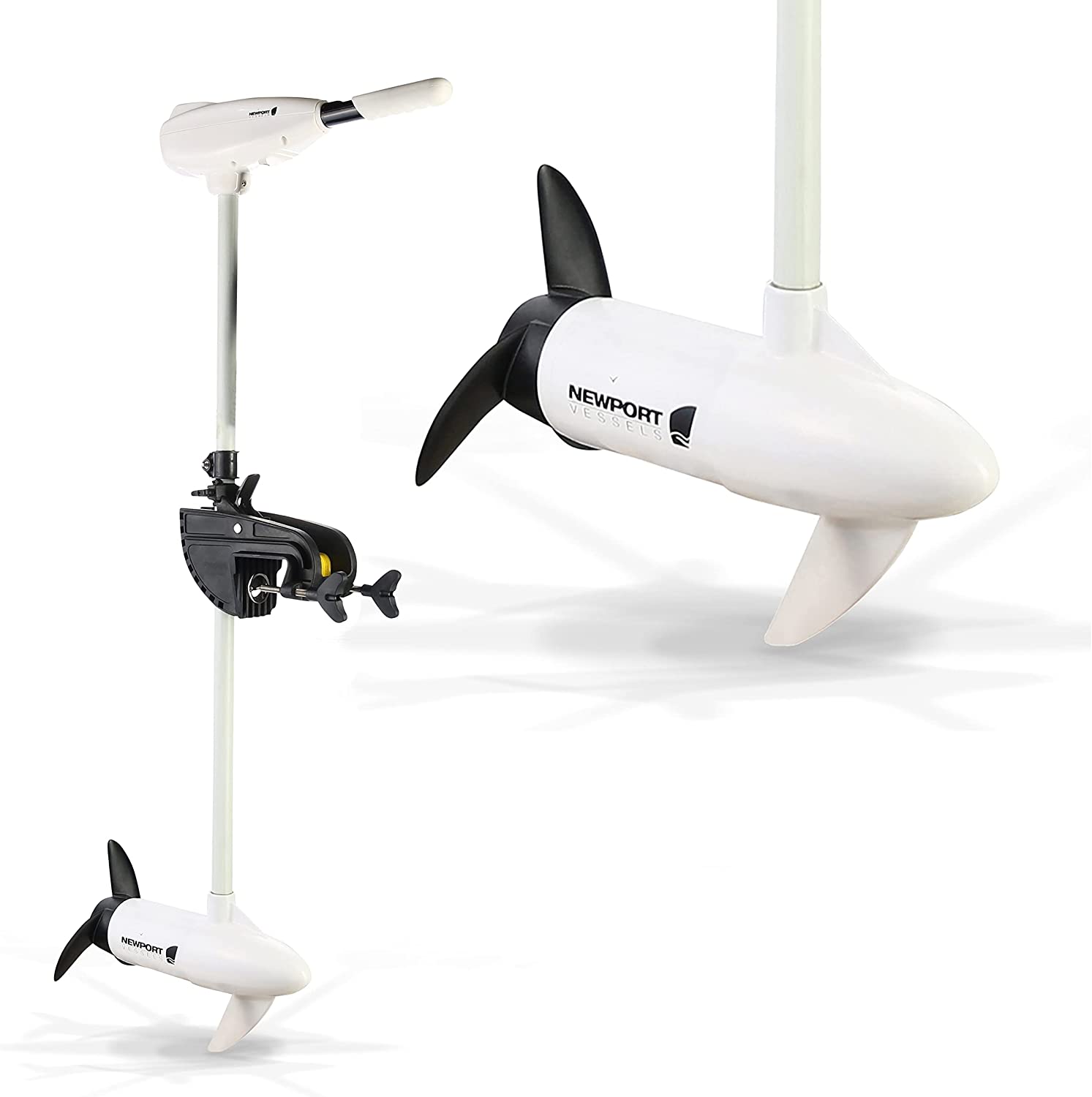 The Newport Vessels L Series offers the level of stealth that kayak anglers crave.
Pros:
✅ Three-blade prop
✅ Low amp draw, resulting in long battery life
✅ Low weight
✅ Fiberglass shaft
Cons:
⚠️ Only transom mountable
⚠️ Low speed
securely, on Amazon's website
Many of the trolling motors that produce high levels of thrust struggle with doing so efficiently. The L series doesn't have that problem. Its weight is low and its max amp draw is only 48. For a trolling motor that can produce 1.5 horse power that is quite an accomplishment. This unique feature is why Newport's L-Series 86 makes our list of the leading trolling motors for kayaks.
Technical specifications:
Shaft: 40'' adjustable

Thrust: 86 lbs

Voltage: 24 VDC
The three-blade prop that comes on the L series has enough surface area to convert the significant power it can produce into forward thrust. The key is the increased surface area of the three blades of the prop that are offset from one another.
Knowing that you will always draw less than 48 amps is huge when it comes to operating some of the higher performance trolling motors. With an efficient motor you will be able to go farther and last longer than you would otherwise. The L series is one of the most efficient motors that you will find that is also capable of higher operating speeds.
On a kayak, weight is a big concern. The more you have invested in your trolling motor the less you can have in tackle, gear, and food. This means that you are limited in how much you can actually do in the kayak. Therefore, having a lighter weight trolling motor - which is down to 25 lbs in the case of the L-Series 86 - is crucial to getting the most out of a fishing kayak.
One of the greatest attributes of this trolling motor is the fiberglass shaft. Fiberglass has a high tolerance for impacts and will bend when it contacts something. When you consider that it will be moving at a high rate of speed, if you were to hit something, you would bend a metal shaft. A fiberglass shaft will simply absorb the impact and then snap back into place.
Out of the box however, the L series can only be mounted on the transom of your kayak. However, there are some ingenious ways to mount it in other places, but it will not be easy nor conducive to ease of use.
The L series is advertised as having the ability to achieve an impressive 5mph. However, if you know anything about trolling motors and boats, you realize that this is probably over inflated. There is no discussion as to what sort of vessel it can help achieve that speed. Inflatables are commonly outfitted with this trolling motor, but they are also not that common in the kayak fishing world. Therefore, the speed they advertise is likely a little too high.
Nonetheless, Newport's L-Series 86 remains on the best trolling motors for kayaks you can find - especially in terms of stealth.
6. Most Lightweight and Easiest to Mount: Watersnake T18 ASP
Weighing just 5 lbs, the Watersnake T18 ASP is the lightest trolling motor you can find.
Pros:
✅ Incredibly lightweight
✅ Very easy to install
✅ Affordable
✅ Easy to operate
Cons:
⚠️ Components are not the most durable
⚠️ Prop is a bit too large for the available power draw
⚠️ Speed is slow
securely, on Amazon's website
This trolling motor is built with the person that has a small pond and just needs to get around it in mind. From opening the box to installing on the boat will only take a few screws and a very short amount of time. Due to its ease of use, we see the Watersnake T18 ASP as one of the top trolling motors for kayak fishing.
Technical specifications:
Shaft: 24''

Thrust: 18 lbs

Voltage: 12 VDC
At 5 lbs, who knew you could make such a light trolling motor? With this being so small it will not impact the useful load of your vessel at all. Given the cost and weight, it will be value added to any vessel it is attached to.
The Watersnake T18 ASP is incredibly simple to install. Since it comes with its own mounting system, there will be no need to build one from PVC, plywood, or welded aluminum. Instead you will only need a drill and a free 15 minutes to get it attached to your boat.
Unless you are looking for a used trolling motor, you are not going to find one that is any cheaper. This trolling motor will only be a fraction of what you spend on tackle and you will likely only notice the benefit it brings to your boat and not the cost.
Some trolling motors are so advanced that they come with a novel for an owners manual. Not this one. Instead it has just a few switches and a throttle. That allows for the novice, casual user alot of peace of mind while operating this low cost, low stress trolling motor.
In order to get the price as low as it is, there have to be sacrifices made along the way. A quick review of comments on forums and online reviews of the trolling motor quickly reveals where the manufacturer made those sacrifices. Their mounting components specifically seem to have taken the biggest hit. Therefore if you purchase this trolling motor expect to have to do some tweaking and maintenance from time to time.
While most trolling motors have a prop that is too small for the power it has available, this trolling motor has a prop that is too large for the power it has. The end result is a lower head speed and consequently subpar performance. Do not operate this trolling motor in areas that have heavy vegetation, high current, or high winds as it will not be able to keep up with the demands placed on it.
This trolling motor is significantly underpowered. If the vessel it is attached to has any weight to it at all, the speed will be ridiculously slow. Therefore, it is recommended only for super light weight craft like inflatables or single person canoes.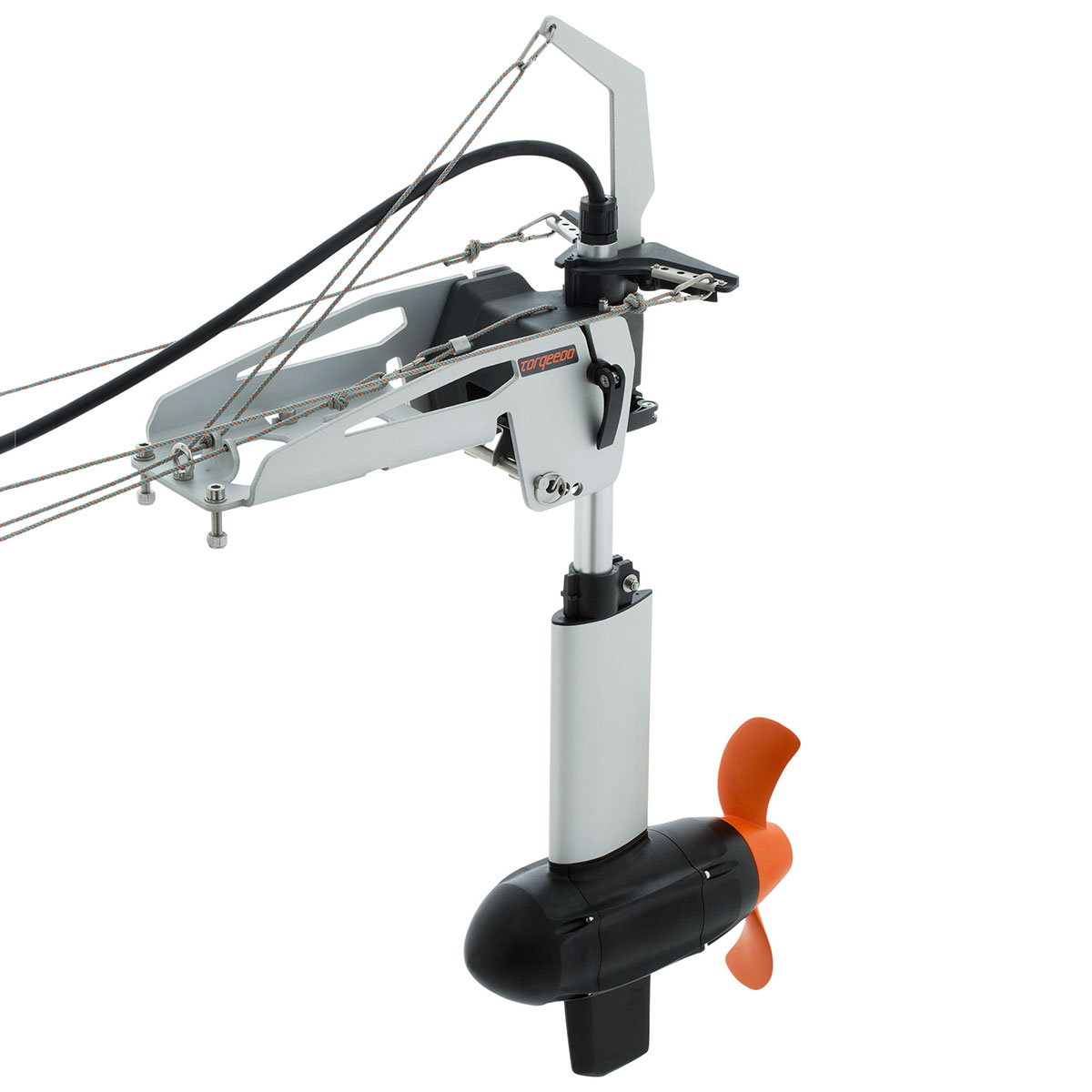 If you're looking for speed, the Torqeedo trolling motor is worthy of consideration.
Pros:
✅ Onboard range estimator based on GPS
✅ 100% waterproof
✅ Remote throttle
✅ Onboard charger
✅ Incredibly fast
Cons:
⚠️ Heavy
⚠️ Manufacturer uses their own battery
⚠️ Foreign design
securely, on Amazon's website
This is one of the more advanced trolling motors geared toward the canoe, kayak, and inflatable boat community. It has an onboard computer that is able to calculate how far it has gone and how much farther it can go.
However, even though it is GPS enabled, it doesn't seem to integrate with weather, current, or boat data to get an accurate figure. Therefore, it would be recommended to avoid relying on the trolling motor to provide quality data. Instead, look at it as a data point to be judged next to other data points.
Technical specifications:
Shaft: 21''

Thrust: 3hp

Voltage: 29.6 VDC
Knowing how far you can feasibly get with your trolling motor will always be a challenge. The Torqueedo makes that a little bit easier. It takes the level of battery left and, based on current trends, projects how far you can go. As stated before, it has no real method of accounting for external factors and should be taken with a grain of salt. However, it is good information to have when trying to determine if you can make it to your favorite fishing spot and back.
There is no need to worry about heavy rain or the consequences of capsizing when it comes to the Torqeedo - it's 100% waterproof. This is significant since its enhanced speed capabilities make it much more likely that you will roll it in a turn or on the odd wave when at full throttle.
Made with kayakers in mind, the Torqueedo comes with a remote throttle. The manufacturer clearly envisions this unit being the primary method of propulsion for any boat that it is mounted to. Anticipating that, they have constructed a very easy to install throttle control unit that is not unlike that of an outboard.
Most people have to buy a charger for their boat electronics. However, with the Torqeedo it comes with an onboard charger. This is a great addition to your vessel since you will likely be depleting the trolling motor battery every time you go out.
The Torqeedo is also ridiculously fast for a trolling motor. If you are going to be on public waters, it is important you know the rules of the road. However, with the Torqeedo, you may want to review the rules of the road because you will likely be keeping pace with many small boats out there.
Speed is always a highly dependent factor concerning kayaks and trolling motors. Of all the trolling motors, the Torqeedo is one that is most shrouded in mystery. Yet, those that own them report speeds up to 8 mph which is absurdly fast for a kayak that is not built for that kind of speed.
This trolling motor is not light. Since it is intended to be transom or bow mounted on a kayak, that is a significant point of concern. Having all the weight in the kayak concentrated at any point will make it more unstable. Given the speed at which you can operate a kayak equipped with the Torqeedo, stability is a very serious concern.
Batteries are always a source of confusion, but the Torqeedo takes that confusion to the next level since they use their own. This makes the expected battery life hard to determine, but the manufacturer states it can go 31 miles. Though there is no qualification of that figure by clarifying what type of boat it is mounted on, the weight, hull design, etc. Therefore, it is reasonable to assume it will only last about 8 hours of standard use and only a few hours of heavy use as a primary propulsion system.
When shopping outside of the US trolling motor market, information can be very different than what you are used to. For example, the manufacturer of the Torqeedo does not publish how many pounds of thrust the Torqeedo can put out. Rather, they choose to describe their thrust by comparing it to a standard outboard.
No doubt this is partly due to it being a foreign trolling motor and partly an attempt to achieve brand relevance with much more powerful engines, it makes a direct comparison of this trolling motor against the others somewhat difficult. Suffice it to say, it is powerful regardless whatever the numbers are.
What are the Benefits of Using a Trolling Motor on a Kayak? 🚣‍♂️
Having a trolling motor on a kayak is highly advantageous to the serious fisherman. Not only does it greatly increase the range of the kayak, it also increases the speed at which that range is traversed.
Therefore, it is imperative that each kayak fishman consider adding a trolling motor to their vessel. Though it adds a level of complexity that may not be attractive, the enhanced capability will greatly overshadow the added frustrations.
A trolling motor is also a viable alternative to an outboard equipped boat of similar size. An examination of factors that contribute to boating accidents will reveal excessive speed as a contributing factor.
While a trolling motor equipped kayak is fully capable of getting to where it needs to be in a timely manner, even the most aggressive trolling motors will not reach lethal speeds. This makes trolling motor equipped kayaks a preferable alternative to outboard equipped jon boats.
A trolling motor also offers many fishing benefits to fishing kayaks. This is seen in several ways, but most readily in bass fishing and trolling.
In bass fishing, it is imperative that the boat be positioned correctly so quality presentations can be made to targets. This could be a matter of keeping a boat perpendicular to a line of vegetation or nosed into a dock. In either case, the way the kayak is positioned will determine how effective a presentation the angler can make to the cover being fished.
If you add fishing rod holders to a kayak and combine them with a trolling motor, you can enjoy an afternoon of effectively trolling when fishing for bass. This allows for fishing to be effective and enjoyable.
The trolling motor does the hard work as the fisherman just enjoys the scenery as it passes by while waiting for a strike. Though this can be done via a paddle or peddle, it is much more difficult since you are having to propel the boat forward.
Standard Kayak Features 🎯
Let's dive into what's considered 'the norm' in terms of a high-quality kayak.
Weight: Do Trolling Motors Weigh A Lot? 🏋️‍♀️
Trolling motors run the gambit of weight. Some are as light as a few pounds, but perform accordingly. However, there are others that are extremely heavy, but offer a lot more capability.
No matter what the weight of the trolling motor is, it should be a consideration that is foremost on the mind of the boat owner. The weight will greatly inform where the trolling motor can and cannot be placed on the boat if it is to remain stable.
Thrust: How Much Thrust is Needed for a Trolling Motor on a Kayak? 🔥
Thrust is a hot topic concerning trolling motors. Some believe that trolling motors should have a high level of thrust so that the operator has added flexibility. Others take a different approach.
The thrust that you will need in your trolling motor will depend on several factors. Think through your kayaks weight, type of activity, purpose, and your own preferences.
How much force do you really need? The vast majority of kayakers will only need a 55lbs thrust trolling motor, but some may want more or less depending on their circumstances.
Shaft Length For a Kayak 📐
A trolling motor shaft length is one of the most important considerations when determining the right trolling motor size. The shaft should leave the motor 6'' below the surface of the water. Above or below that level is either completely unnecessary or a suboptimal depth.
Therefore, since a kayak is such a low profile vessel, they typically only need a 24" shaft at the longest. The issue is that only a few trolling motors have such a short shaft.
The important thing to remember is to adjust your trolling motor shaft so that it sits at the correct depth.
Different Mounting Styles for Trolling Motors on a Kayak 👇
A trolling motor can be mounted in several different ways on a kayak. The most common is a transom mount. In this situation, the trolling motor is mounted on the rear of the vessel and works in much the same way an outboard does on a bass boat.
Bow mounted trolling motors do much the same, but are positioned at the front of the boat. This allows the trolling motor to pull the boat through the water. Other options are through the floor and off to the side. Both of these mounting styles are done at the center of the kayak and require special mounts.
The typical largemouth bass living environment will largely require a smaller profile in order to slide through heavily overgrown areas. This can limit the ways a trolling motor is mounted to a kayak. Side mounts are often a good way to limit the boat and hang brush as you push past it. Transom mounted trolling motors are often better, but have limited capabilities in terms of precision steering. Therefore, the best mounting methods for bass fishing are either on the bow or through the floor
Batteries 🔋
Trolling motors are fundamentally different from most other nautical electronics. Since a trolling motor's primary mission is to convert electrical energy into propulsion, it has a much larger electrical appetite than anything else on board. This greatly impacts your choice of voltage, thrust, and batteries.
Given that a trolling motor sucks electrical energy with a level of ferocity unlike anything else on board, there has to be a solid understanding of electricity if it is to be managed correctly.
Thankfully, it is not that complicated. If you can understand the concept of an amp hour, you will know the proper battery size needed for a trolling motor, how many batteries you need, what your range is, and how demanding different settings of your trolling motor are.
Batteries are rated in amp hours. One amp hour means that the battery can supply one amp for one hour. A 100 amp hour battery can supply the trolling motor with 100 amps for one hour or one amp for one hundred hours. If you know and understand this fact, you will be able to plan out your approach to trolling motor batteries effectively.
Essentially, you want to have the largest amp hour capacity in your battery while operating your trolling motor on the lowest setting. This will place the lowest amount of demand on your battery while maintaining a large amp hour capacity. The end result is high levels of endurance for the trolling motor battery that will allow for you to use it all day long.
Legality of a Trolling Motor on a Kayak 👮‍♀️
A trolling motor is perfectly legal to place on a kayak. However, depending on the laws of the state that you are operating the kayak in, it could change the kayak's vessel class. This will result in the kayak and angler being subjected to new regulations they previously weren't aware of. Requiring registration, insurance, and boating education are just a few examples of requirements that may come along with putting a trolling motor on your kayak.
No matter if your kayak has a trolling motor or not, you should always treat it with profound respect. Not only is the kayak able to cause great harm to you if not operated correctly, but it can also get you out of really bad situations as well.
Keeping safety in mind, regardless of the legal requirements, is critical to enjoying kayaks. Remember, the best piece of gear you can buy for safe boating is a comfortable, functional personal floatation device.
The Extra Bells and Whistles ✅
What's considered an advanced feature when it comes to a kayak - especially for fishing?
Speed Settings 🏎
Many kayak manufacturers will advertise multiple settings for speed in both forward and reverse. The ideal trolling motor will not have these predefined settings that you will be forced to conform to. Rather, select a trolling motor that will allow you to increase the speed precisely by using a knob as opposed to predefined settings.
The reality of the water is that things are constantly changing and the most flexible people are the one that have the most success. Attempting to force nature into one of five settings a manufacturer placed on your motor is simply not a realistic approach to success.
Wireless Remotes 🎛
Wireless remotes are incredibly useful and, thankfully, incredibly common. While these come with a little extra complication of batteries and connectivity, it can significantly reduce the complexity of mounting a trolling motor on your boat.
It also has the added safety feature of allowing you to control your boat without being in it. This means if the boat floats away while you thought it was tied up or you fall out of it, you can easily bring it back to you via the remote.
If you are buying a new trolling motor you would be well advised to find one that has a remote control.
Foot Pedals & Controls 💡
Determining what type of control setup you need is rooted deeply in what you will be using the kayak for. If you intend to be fishing a lot, then you will need to have some sort of hands free system to control the boat.
Foot pedals are a classic approach to controlling the steering of the trolling motor while a throttle body of some sort is operated by hand.
However, these systems are much more complicated and have several moving parts that open the trolling motor up to failure. A hand control system is much more simple, but requires constant attention from the hands of the operator.
Conclusion 🏁
There are alot of things to consider when comparing kayak fishing to fishing from a larger vessel. However, having a quality trolling motor is not one of them.
With a little research and elbow grease, you can have all the benefits of a trolling motor on a kayak just like you would on a large bass boat. However, before you launch your kayak you should always consult your local law enforcement, game and fish commission, and the manufacturer's recommendation for appropriate boater safety tips.
Trolling Motors for Kayak Fishing: FAQs
What Size Trolling Motor is Best for a Kayak?
The best size trolling for a kayak will likely be around 40 lbs depending on your fishing setup. Sometimes getting through the weed, grass, and obstructions to get back to areas that have the types of prey that bass feed on can be challenging. Therefore, you need to have a trolling motor that is the best size for a kayak.
What Speed will a 55lb Thrust Trolling Motor Reach on a Kayak?
The speed a 55lbs thrust trolling motor will reach on a kayak is entirely dependent on the boat it is attached to, the weight in the boat, the conditions of the water, and the skill level of the operator. Speed is an extremely relevant metric when considering a trolling motor for a kayak as there are so many factors that could influence it. However, a good rule of thumb is to expect 3-5 mph max out of your trolling motor under the best of conditions, but understand you will very rarely see the top of that range.
What Should I Consider When Choosing a Trolling Motor for a Kayak?
The first and most important thing you should consider when choosing a trolling motor for a kayak is your intended use. If the trolling motor is only going to be for propulsion, then certain models will be better suited to what you want to use it for. However, if you intend on bass fishing with the kayak, then you will need to look at trolling motors that are built for that end in mind. The best method is to clearly define what you intend to use the kayak and trolling motor for and then purchase a motor to meet that intention.
Can You Use Any Trolling Motor on a Kayak?
Technically, you can use whatever trolling motor you can effectively attach to a kayak. However, there are complications to many trolling motors due to their design and intended use. While a transom mounted kayak intended for use on a jon boat would be simple to adapt to a kayak, a long shaft, deck mounted trolling motor intended for pontoon boats would cause serious complications. Therefore, when selecting a trolling motor for a kayak, ensure you properly research what it will take to make it effective on a kayak.
How Long Do Trolling Motor Batteries Last on a Kayak?
Trolling motor batteries last different times depending on a wide variety of factors. Boat weight, the setting of the motor, frequency of use, wind, and current can all drastically affect your battery length. Given the level of unknown with some of these, one of the smartest things you can do is leave a float plan with someone at home before you hit the water.
How Deep Should I Set a Trolling Motor for my Kayak?
There are several considerations you must bear in mind when mounting a trolling motor to a kayak. How you plan to transport your kayak, how far you intend on going with it, and what kind of battery bank you will have on board are just a few considerations you must bear in mind. There is no universal right answer and you should embrace the idea of a period of experimentation concerning mounting depth.
About the author: Brandon Sanders, who goes by BBSanders, is a freelance outdoors writer that enjoys hunting and fishing across the world. He is a combat veteran of Iraq, Afghanistan, and many other smaller deployments. He lives in East Texas in a small cabin with his wife and two dogs. You can learn more about him on his own website, here.