Disclaimer: FishTechOutdoors is community supported. We may earn a commission when you make a purchase through one of our links. As an Amazon associate, we earn from qualifying purchases. Learn more.
Best Kayaks for Fishing [Quick Reviews]
Boats are expensive. But here's the best kept secret in fishing: You can cover plenty of ground when fishing from a kayak! Read on to learn about the top kayaks available—specifically for fishing.
Last updated: December 24, 2022
By: Brandon Sanders and Jon Stewart
Purchasing a kayak has many advantages for fishing. ✅
Generally speaking, kayak fishing is simple, affordable, and relaxing. There are many places that are inaccessible by conventional boats either because of motor restrictions or by being too shallow.
Fishing from a bass boat is great. But it so expensive today. That why more and more anglers are turning to kayaks—they offer many of the same benefits, such as getting out on the water with your fishing rod on a beautiful, relaxing, sunny day, but at a fraction of the cost!
As kayak fishing grows in popularity, state fish and game agencies are seeking to foster this increase in fishing interest by providing opportunities to kayak anglers. Access to the rising number of paddling trails not only offers a way to cool off, but provides excellent fishing opportunities as well.
However, the process is complicated with a lot of factors to consider. ⚠️ How long should the kayak be? Which one is the most stable and provides the best value? What should the hull be made out of? Sit on top or sit in? There are so many factors in the ever growing and evolving kayak market that a novice will easily drown in the sea of information.
Here, we break down the top kayaks for all types of fishing, explaining their pros and cons. With this information, you'll be ready to start kayak fishing in no time.
Ready? Let's go!
Best Fishing Kayaks of 2022 🏆
The Top Kayaks for Fishing (All Factors Considered) 🥇
So you've discovered the greatest fishing hack of today: using a kayak. But - you're overwhlemed by the amount of kayaks to choose from. That's normal! There are many factors to consider.
We've spent over 82 hours looking at the technical specifications of the most popular kayaks out there. When it comes to fishing, here are the leading kayaks available.
The Radar 115 offers a sleek design with the latest technology available for kayak fishing.
Pros:
✅ Tri Power Capable provides options
✅ S.M.A.R.T hull for inherit stability
✅ Low Profile Deck
✅ Built in steering control is standard
✅ Modular customization system
Cons:
⚠️ High weight
⚠️ Limited availability
securely, on Amazon's website
Wilderness Systems Radar 115 takes the best overall category as being at the balancing point between expense and performance, making it the premier fishing kayak. Wilderness systems has paid close attention to the secondary market and the modifications that anglers are putting on new kayaks and incorporated them into the design of this kayak.
The Radar offers a modular design that allows anglers to easily install power packs, pedals, and electronics with relative ease. The new S.M.A.R.T hull design allows for stand up fishing no matter what the conditions throw at you. For those that are familiar with kayak fishing, you know how much of a bonus this is!
The low profile deck is perfect for the fisherman that wants to get close to cover after they have quietly approached the unsuspecting fish. Built in steering is standard on this boat which prevents the new owner from having to install a rudder system on their own. It also works well with the tri power capability of the Radar no matter if you are paddling, pedaling, or powered by electric propulsion from a trolling motor.
The Radar biggest drawback is its weight. At 85 pounds, smaller framed people will struggle getting it off the ground and into whatever mode of transportation they use to get it to the water.
It is also a victim of its own popularity and Wilderness Systems struggles to keep their dealers in stock. The secondary market may be the only place to find one, if you can find someone that would want to part with it.
Overall, we believe that the Radar is the best kayak for fishing, when all things are considered.
The Slayer Propel Max offers an advanced pedal drive system for sleek manueverability.
Pros:
✅ Pedal drive goes into reverse
✅ Quick access, under seat storage
✅ Excellent in hull storage
✅ Very stable
✅ Comfortable, high seat
securely, on Amazon's website
Native Watercraft Slayer Propel Max is a kayak with the bass fisherman in mind. With a pedal drive that goes into reverse, staying properly oriented to cover will never be easier.
The storage is second to none in the kayak world. With under the seat storage for quick access to tools and ready lures for bait changes, the Slayer allows you to minimize shuffling through storage and maximizes fishing time. Other storage is available in dry compartments inside the hull to allow for more tackle options when the conditions change or fish change their mind.
It is incredibly stable and allows for stand up fishing with ease and confidence. When not on your own two feet, the seat is extremely comfortable. Further, the seat sits high enough up to allow you to still see the water while taking a break.
While Native Watercraft has produced a boat that is difficult to match, it comes at a high price compared to the competition. To be fair, you get what you are paying for—and even a little more, in this case.
Between the storage capacity, comfort, seating, and pedaling capabilities, you really can't go wrong with the Slayer Propel Max. Fishermen everywhere appreciate all the benefits that this kayak offers for fishing—whether in lakes, ponds, or even rivers.
In the end, it is difficult to match Native Watercraft Slayer Propel Max. If it were just a little cheaper, it would probably take the cake here. But, something has to come in second place—and this kayak does that job easily.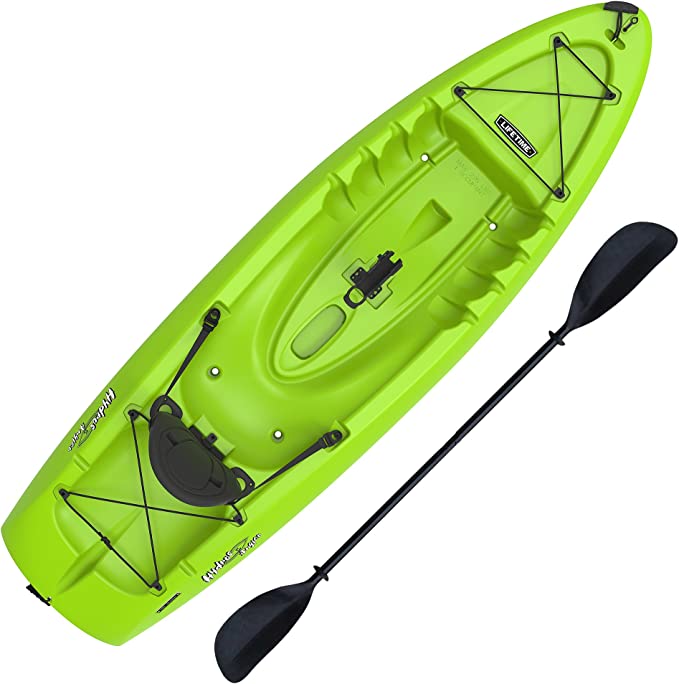 Lifetime'sHydros Angler 85 may not have all the bells and whistles, but it is affordable.
Pros:
✅ Lightweight
✅ Affordable
✅ Very stable
✅ Ample storage
✅ Does not fade in sunlight
Cons:
⚠️ Little protection from getting wet
⚠️ Not known for comfort
⚠️ Can be damaged easier than other kayaks
securely, on Amazon's website
Weighing in at a super lightweight 41lbs and for very little expense, anglers will love the ease of the Lifetime Hydros Angler 85. If you are an angler that wants to have an easily stored, easily transported, low cost fishing kayak, this is the one for you.
Since it is UV resistant, storing it outside and uncovered is not an issue. It sports ample storage that normally is characteristic of a much more expensive and complex kayak.
Further, it is extremely stable for its size and class thanks to its hull design. The Angler 85 is just that, a great boat for those that want to make a quick trip to their local lake or pond to catch some afternoon bass with ease and little expense.
However, as with many things in life, the strength of the Angler 85 is also a weakness. While it is cheap, lightweight, and easy to transport, it is known to be very wet, uncomfortable, and struggle with durability issues.
This makes it less than suitable for day long fishing ventures or expeditionary work over a long period of time. Having to sit on the plastic seat saves weight and expense, but could punish the back and rear end after about 2 hours of fishing. It is suggested to use a nice seat cushion for proper lumbar support if you opt for the Angler 85.
Therefore, it is important to see the Angler in light of its strengths to negate its weaknesses. It is the ideal short term boat for the less than serious angler. It is not a serious fishing kayak that will win tournaments and achieve local legend status.
But if you're just looking to get out on the water without breaking the bank, then the Angler 85 could be the perfect fit.
Old Town's Sportsman Bigwater PDL 132 takes the cake when it comes to fishing kayaks with foot pedal systems.
Pros:
✅ Eva Foam Deck
✅ Tri Hull Design
✅ Very fast
✅ Great customer service
✅ Ample storage space for tackle
Cons:
⚠️ Rudder is undersized
⚠️ Drive unit drafts a bit deep
securely, on Amazon's website
Old Town has been around for an incredibly long time and has earned the reputation of building quality vessels from the very beginning.
The Sportsman Bigwater PDL 132 is very difficult to beat. When you consider that Old Town is owned by Johnson Outdoors who also owns Minn Kota, a match made in heaven is sure to be born.
The Sportsman features a tri hull design for stability, an eva foam deck as standard, and an incredible amount of storage space. Since Old Town anticipated a Minn Kota trolling motor to be attached, they made the hull with speed in mind.
The benefit of this to the pedaling angler is that it will go faster, farther, and far easier than many other pedal driven kayaks on the market. This makes the speed, maneuverability, and capability to cover distance unmatched for the Sportsman Bigwater PDL 132.
Old Town is also a victim of its own success, however. With a hull that glides through the water with such ease, the standard kayak rudder will not suffice.
This is not something that Old Town seemed to anticipate when they launched the Sportsman and it did not take long for the complaints surrounding the slightly ineffective rudder to come rolling in. Additionally, the drive unit that comes with it drafts deep to achieve the speeds the hull is capable of. This can sometimes result in damaged props when operating in shallow water.
In fairness, Old Town has very minor complaints when you consider what it brings to market. If you are going to be a pedal angler that is sticking to deeper water, the Old Town Sportsman Bigwater is likely the right boat for you. The features it offers for fishing at depth are simply non-existent in other other fishing kayaks.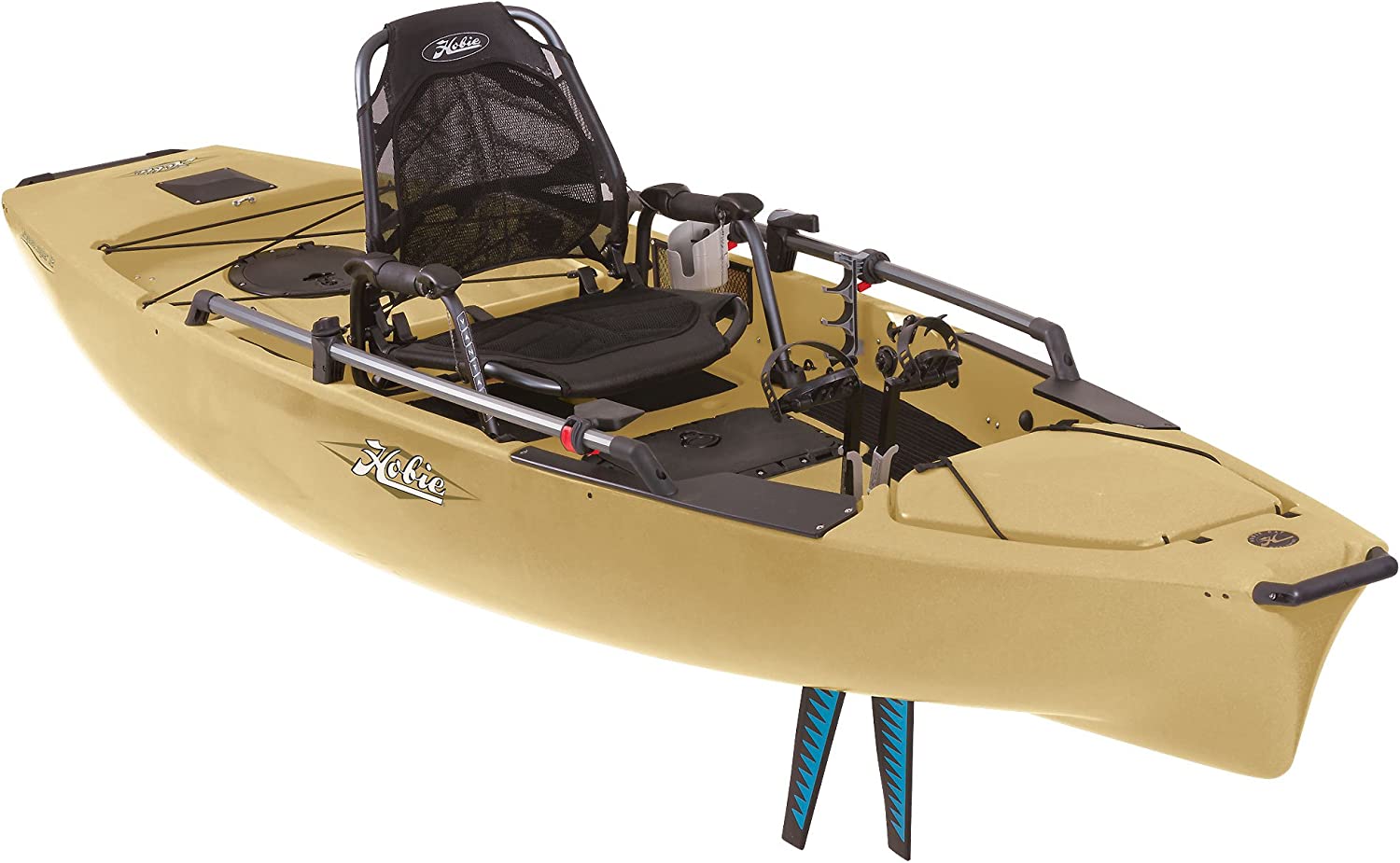 Hobie uses a unique kick fin system which was inspired by penguins.
Pros:
✅ Extreme stability for big water
✅ Oldest pedal drive on market
✅ Kick fin system is highly resilient
✅ Very comfortable seat
✅ Side rail system makes mods easy
Cons:
⚠️ Expensive in class
⚠️ Heavier than most comparable boats
securely, on Amazon's website
Hobie Cat got its start as a small sailboat manufacturer, but found its way into making all sorts of water sports items as time went on. They were the first to introduce a pedal system for fishing kayaks based on how penguins use their flippers to glide through the water.
Today, that same innovative approach still works and is available. Unlike other kayaks with pedal drives, the kick fin system will not break when contacting logs or rocks in shallow water.
Yet, the main intent of the Pro Angler 12 is to go into deep water and catch very large fish. Therefore, Hobie made the Pro Angler to be inherently stable no matter what water or wind conditions it is subjected to. With the side rail system, the Pro Angler is easily modified for any electronics the angler wishes to install.
However, Hobie Cat is a brand that is well known in the saltwater world and the performance comes at a price. The owner of their kayaks will feel that price in both their wallet and their back as it is the most expensive and the heaviest boat in its class.
This doesn't seem to impact their popularity even with shallow water anglers. The versatility of the boat to go anywhere and do anything makes this a compelling boat to consider despite a few setbacks.
At the end of the day, the Pro Angler constitutes one of the top kayaks for fishing you can find. If you're particularly not a fan of pedal drives, then the Pro Angler is likely right up your alley.
Factors to Consider When Looking for a Fishing Kayak
Finding the right fishing kayak isn't as easy as throwing your fishing gear in the first kayak you find and hitting the water. You need to pay careful consideration to a number of factors in order to identify the best kayak for your own personal needs.
Understanding the Cost of a Kayak 💰
One of the most attractive things surrounding kayak fishing is its relatively low cost. With the uptick in the cost of conventional fishing boats, many would-be anglers that simply cannot afford or don't have a place to store a bass boat don't ever make it to the water.
That is, until kayak fishing developed into what it is today. Kayaks are a fraction of the price to purchase, register, insure, and maintain when compared to typical bass fishing boats. A low cost is one of the key advantages that is afforded to the angler.
However, just because kayaks are cheaper than larger boats, does not mean that they are always inexpensive. The modern kayak can be upwards of $5,000 if the angler budget allows it.
However, there are plenty of fishing kayaks that are easily purchased below $500. The main consideration is to understand your budget and the kayaks that will fit in it. Bear in mind that you will likely want to modify and upgrade any boat that you purchase. Therefore, those modifications should be factored into your budget as well.
The Importance of Stability for Fishing from a Kayak ⚖️
Unlike the cheap plastic kayaks that you may have paddled around with when you were a kid at summer camp, the modern fishing kayak is incredibly stable. Many people mount trolling motors to them, stand up and fish out of them, and even brave vicious ocean swells.
This is also a result of the rise in popularity of fishing kayaks. With every kayak sold, more money is invested into research and development.
Additionally, the increase in sales catches the eye of innovative entrepreneurs that bring fresh ideas to the fishing kayak world. Consequently, the modern fishing kayak is nearly as stable as any aluminum boat you can find.
When considering the stability of a potential kayak, the type of fishing you intend to be doing should be your chief point of consideration. If you foresee yourself fishing deep water with little cover penetrating the surface, then standing up in the kayak is probably not a concern.
Therefore, you can sacrifice stability for other features.
However, if you are in a more swampy area and anticipate flipping and pitching jigs to trees, then perhaps you should consider a wider boat. In either case, the main consideration should be how you intend to use the boat. Shallower fishing requires a kayak with more stability, while fishing deep water doesn't require as much stability.
Transportability is Now Easier Than Ever 🚙
There is now a way to transport your kayak no matter what you use as a daily driver. This is one of the key attributes of kayak fishing that attracts more and more anglers every year.
No longer do you need a large truck to haul a fishing boat from your driveway to the water. A kayak can easily be transported by car or even motorcycle. Trailers, roof racks, and classic ingenuity allows for kayaks to be easily transported to your nearest fishing hole.
Knowing how to properly transport a kayak is an essential element to consider when you are looking to purchase a new boat. The main consideration in terms of transportability is what type of vehicle will you be moving your kayak in, and how capable are you in lifting it.
For some, a lighter kayak may be the answer to both of these questions. Transporting a heavy kayak on the roof of a car is neither very safe nor fun to get it there. However, if you have a truck or trailer, a long, heavier kayak may be more of an option.
Strength, Durability, and Longevity 🏋️
One of the most undercelebrated aspects of kayak fishing is their long life. A few hundred dollars spent today will require very little if any extra money to keep it usable in the future.
There is no wood to rot, nothing to corrode, or break down. The reality is that when the apocalypse happens, there will only be kayaks and cockroaches left to tell the story.
However, not all kayaks have the same level of durability. Some are made from inferior material and get damaged far easier than others. This is something to pay attention to in concert with your transportation technique and where you will be fishing.
If you are fishing sandy beaches, you have to consider what a lifetime of sand will do to the bottom of the boat. If you intend on dragging your boat into the water, what will gravel, asphalt, and rocks mean for the longevity of your purchase?
While there are ways to care for your kayak, one thing that must be considered is the quality of the boat from the onset. Think about how you plan to use the kayak in order to better understand your needs on this front.
What Size Kayak Should You Choose?
At the end of the day, size matters.
A quick survey of the fishing kayaks offered today will quickly turn up the question of how long is too long and how much weight is too heavy? Every boat is made with a different design in mind and meant to serve a specific purpose. Those designs and purposes greatly impact how much a boat weighs and how long it is.
Having a proper understanding of what weight and length means for a kayak is essential to purchasing the right kayak.
Weight is a crucial factor with any boat, but especially with a kayak as you are having to paddle it through the water. Having the best kayak fishing setup is key to keeping weight to a minimum and still being able to carry everything needed for a day on the water.
Yet there is a balancing point. Lighter, thinner hulls mean slighter damage can be more impactful to your hull lifespan. While thicker, heavier hulls will last longer, they will also reduce your speed and range. Finding the right balancing point is crucial to the kayak angler.
Length is an often misunderstood, but crucial aspect of kayak size. The longer the boat, the faster the boat will go through the water. Yet, speed is sacrificed for stability, storage, and maneuverability on shorter boats. There is no perfect length in kayaks, only the perfect length for you. It is important to consider the length of the kayak and how it impacts your fishing when purchasing a kayak.
Kayak Storage and Add-ons Explained 👇
While a kayak has a conventional fishing boat bested in many areas, the one place they lose hands down is storage. There simply isn't enough storage space in a kayak to store every bit of tackle and gear you own like there is with bass fishing boats. Since storage is limited, the kayak angler is forced to make sacrifices and be more prepared than the fisherman in a conventional boat.
The amount of storage, the layout of the boat, and the ability to add dry bags to the boat is an important aspect to consider when purchasing a kayak. Similar to the importance of a properly organized tackle box, you want to have a good storage setup on your kayak.
Some kayaks have ample room to place a cooler chest, tackle boxes, and milk crates to help combat this weakness. While the cheaper kayaks simply pay no mind to this frustration and leave the hull rounded with little possibility to affix tackle boxes and other items.
Additionally, the layout must also support any future add ons such as fishing rod holders or trolling motors that you may anticipate needing or wanting to install. One of the key differences of fishing kayaks from other types of kayaks is that they come with some of this already built into the boat.
However, it is common for fishermen to have unique needs and desires. Make sure that whatever boat you ultimately purchase is able to be set up with the addons you want.
Items Absolutely Need for a Fishing Kayak 💡
While storage for tackle, fishing gear, and food is always easy to think about and plan for, there are things that we must take with us on the water that often are overlooked in the buying process.
Some of these include legal requirements such as a life jacket and safety gear. It is important to budget for these types of items so that you are not launching a boat that is illegal or unsafe.
As with all kayaking, a good paddle is one of the most essential items for kayak fishing. Even if you are seeking to put a trolling motor on a kayak to increase its range, having a paddle that is appropriate for the water you will be in, which is fitted to you personally, and is comfortable for hours of use is absolutely critical. Do not forget to research and budget for a good paddle during the purchasing process.
Another crucial piece of kit on a fishing kayak is the seat. You are likely to spend hours sitting in your kayak.
Having a seat that is comfortable, the right height, with sufficient lumbar support, and tailored to your needs is incredibly important. There are ways to cut costs when purchasing a new kayak, the seat should never be subject to your thrifty ideas.
Having the right seat is one of the most important parts of the kayak as it will see the most use and directly impact your fishing experience. The last thing you want is to have a beautiful day on the water ruined because you're uncomfortable.
Other things to keep in mind when looking at potential kayaks are places to tie off gear and the availability for dry storage. Dry storage is a must on a kayak or any paddled vessel. Not only will the inside get wet from the dripping of the paddle, but fishing during rainy conditions will also completely soak you. Either having places to put dry bags or, ideally, watertight compartments built into the boat are essential to having a positive experience on the water.
Considerations: Paddle, Pedal, or Motorized? 🎯
One of the big differences between kayak fishing and fishing from other types of vessels is the options you have in how to propel your boat through the water. Each kayak fisherman and each waterway will place different demands on the means of propulsion of the kayak.
These different options also impact the budget fairly substantially. It is important to have this in mind when shopping for a new kayak. The last thing you want to do is to purchase a new boat only to regret it within the first hour of being on the water.
Paddling has its distinct advantages when it comes to kayak fishing. It is simple, extremely affordable, and fairly reliable. However, it also comes at a cost.
Paddling a boat for hours on end can be extremely difficult especially if you are out of shape. It is also difficult to make precision casts, flip, pitch, and paddle all at the same time. While anyboat can be paddled, consider carefully if that is what you want your primary method of propulsion to be.
Pedal propulsion began with Hobie using a flipper system to push their kayaks forward in the same way that penguins use their flippers to scream through the water. Not only did it work extremely well, Hobie managed to completely shift the way fishing kayaks were thought of.
Today, every manufacturer offers some sort of pedal driven kayak for the fisherman. Some manufacturers anticipate that all fishing kayaks will be driven by a pedal system primarily and have tailored their products to that reality. A pedal drive is advantageous as it allows you to use both your arms for paddling and fishing, while your legs give you the horsepower to move forward.
The last form of fishing kayak propulsion is to simply put a trolling motor on it. While it flies in the face of being simple and thrifty, a trolling motor opens up a whole new world for the kayak angler.
Just like a high end bass boat, a trolling motor on a kayak is able to be controlled and propelled while the angler fishes. Since you still have your arms to paddle and your legs to pedal, a trolling motor enabled kayak can get just about anywhere in a reasonable amount of time.
However, trolling motors come with cost and complications. Beware that when you motorize a kayak, you could be required to register it depending on the state you are in.
Each state has different paddling laws that must be observed to enjoy a stress free day on the water. Beyond that they are much more expensive and complex to set up. Your storage will be consumed with at least one battery and the wiring that comes along with it.
While they do a lot of good for the kayak angler, they should be approached with a level of contemplation of what it means for the budget, storage, and peace of mind.
Know Your Fishing Needs 🎣
Knowing the fishing you are intending to do is key to getting your kayak set up for a day of successful fishing. Which of the different varieties of fishing line will you need? Do you intend to be out for a long period of time? What if you are not having a lot of success and need to change approaches? How far are you wanting to go during a single outing? Are you in good shape and can you paddle for hours?
These questions should be at the forefront of your mind and answered with unparalleled honesty. The more you can envision the type of fishing you anticipate doing, the better you will be able to tailor your kayak to your needs.
This will provide for more enjoyable and more productive fishing. If you select a kayak that you are fundamentally unhappy with because it does not meet your fishing needs, you are likely to simply sell it and be forced to purchase one all over again.
Do yourself a favor and be honest about what you need in a fishing kayak. In the long run, this will save you from headaches in the future.
Sit On Top vs. Sit Inside Kayaks ⚡️
Kayaks are broken down into two categories no matter what other attributes they may be afforded. Sit On Top and Sit Inside kayaks are exactly what they sound like.
Sit on tops are kayaks that have no inner hull and the angler sits on top of them while in operation. Sit inside kayaks are the traditional kayak configuration that places the angler inside a boat much like a canoe. Both have advantages and disadvantages.
Sit inside kayaks allow for the angler to be protected from the elements as well as being closer to the water. This can be an advantage in some situations, such as high wind and adverse weather.
Yet in other situations, like trying to fish trees in a swampy area, a sit inside can be challenging to fish from. Knowing where you will be fishing and in what conditions will greatly inform you as to whether a sit inside is the right choice.
Sit On Top kayaks are by far and away the modern standard. While sit on tops were almost experimental or seen as the "low end" option a decade ago, they are the standard now.
The reason is simple: they are more stable, offer better dry storage, are more durable, and incredibly difficult to sink or capsize. Where sit inside fishing kayaks are becoming more and more difficult to find, there are entire manufactures that only offer sit on top kayaks.
By far and away, the choice a new kayak owner should make is the sit on top. They are much safer and much easier to operate. With their popularity, it may be somewhat difficult to even locate a brand new sit inside. While there are advantages to the sit inside kayak, for fishing they are largely negligible. The sit on top kayak is now the industry standard and will meet the needs of any potential buyer.
Hull Considerations 🛶
With the ever growing popularity of kayak fishing, the new angler is afforded many options provided by the boat makers of today. Kayaks can now come with different modes of propulsion, different sizes and configurations, and different hull material.
While this may not be the first and foremost consideration in many would-be kayak anglers minds, it should be. The material the hull of your kayak is made out of will set the tone of what type of fishing you can do, what modifications you can purchase, and where you will be able to go.
Composite material is the up and coming, but not new, hull material of fishing kayaks. For years, canoes were made of fiberglass and carbon fiber, but kayaks have since drifted away from them.
This is largely due to their extremely high cost which is driven by the intense labor and machining that is required to build them. They are also susceptible to cracking and having holes put in them by rocks or obstructions. While this material is proven in many areas, it remains to be seen if the carbon fiber fishing kayak actually comes to popular acceptance.
Inflatable kayaks also are on the rise. Since they are collapsable, they are able to be transported on bikes, motorcycles, small cars, and backpacks. They run the gambit on price from Seylor offering them extremely cheap but of questionable quality to Alpaca Raft offering top end packrafts.
Though they are versatile, they are extremely limited as to what can be done with them after purchase. Being inflatable, there is little opportunity for modification or mounting a trolling motor. However, some models do tailor themselves to the angler that wants these add ons.
Thermoformed plastic is one of the more common materials to build a kayak out of today. They have two halves of plastic that are independently formed then joined together around the waterline.
While this makes the kayak light and cheap, it is not the ideal method of forming a hull. The seam where the two halves are joined form a weak point for future problems to arise from. Though, those that own thermoformed plastic kayaks rarely report any leakage or damage in these areas.
Rotomolded plastic is the industry standard for kayaks today. This is for good reason as they are nearly bullet proof. You can drag them across gravel, slam them into trees and rocks, drop them, roll them, and they will be just fine.
They are incredibly resilient to the wear and tear of years of use and abuse. In the rare event that one is dented, they will simply pop back into place. Rotomolded plastic will be around for a long time as they are the most reliable hull material on the market to date.
Buying Used: Be Wary of Owner Modifications ⚠️
Beginning kayak fishing can be like drinking from a fire hose. There is no need to make life more complicated and difficult by trying to understand how a previous owner modified the kayak to meet their individual needs and wants.
Each time a kayak changes hands and the new owner modifies it to meet their needs, the kayak becomes more and more susceptible to damage and destruction, which require repairs. The last thing a novice needs is to have the previous owner's depth finder mounting holes filling up with water in the middle of a lake.
If you must buy a used kayak, try to find one that has not been modified at all, if possible. Owner modifications can cause headache later, and can even pose unnecessary, dangerous risks.
Conclusion
Kayak fishing is a great way to get outside, get on the water, and catch memories. However, the start of any good fishing trip comes in preparation. It is good practice, and sometimes required, to take a boater education course before you hit the water. Once you have the requisite knowledge, it will be time to purchase a kayak that is tailored to your own needs and desires. Just make sure that you get the right kayak for you so you don't find yourself right back where you started!
Top Kayaks for Fishing: FAQs
Are kayaks stable enough for fishing?
Kayaks are more than stable enough for fishing. Kayaks have taken fishing for aggressive species such as largemouth bass by storm over the past few years as they offer a safe, convenient way to access premium fishing waterways without the cost of a large boat.
Is an 8 foot or 10 foot kayak better for fishing?
Given the two options, a 10 foot kayak would be better for fishing. Simply put, the longer the boat the faster you can go, carrying more weight, with less work. Generally speaking, the fisherman should always be seeking the longest boat they can afford.
Is there a difference between regular kayaks and fishing kayaks?
There is a difference between regular kayaks and fishing kayaks. While you can fish out of any kayak, fishing kayaks are tailored to the fisherman. They have rod holders, places for tackle storage and other things that are there to make a fisherman life easier. Using these add ons are some of the most important tips for anglers that wish to use kayaks in order to take their fishing to the next level.
Are fishing kayaks safe?
Fishing kayaks are safe. However, there is an inherent danger with all activities in the water that the angler should be aware of and prepared for. When using a kayak to fish flowing waterways such as rivers, this is especially so since the current and obstructions usually play a greater role in the activity.
Are wider kayaks more stable?
Wider kayaks are more stable than narrow kayaks. The wider the boat, the more force it will take to cause it to roll over. This resistance to rolling allows for greater stability all around. It is important to seek stability in a fishing kayak as fishing can create many situations where a normal kayak will roll over.
Do kayaks flip easily?
Most modern kayaks do not flip easily and they are made with the beginner in mind. However, it is still possible to flip them. To prevent this from happening you should seek a class for beginners to familiarize yourself with the proper way to paddle a kayak.
About the author: Brandon Sanders, who goes by BBSanders, is a freelance outdoors writer that enjoys hunting and fishing across the world. He is a combat veteran of Iraq, Afghanistan, and many other smaller deployments. He lives in East Texas in a small cabin with his wife and two dogs. You can learn more about him on his own website, here.