Arkansas State Record Largemouth Bass
March 13, 2021
By: Jon Stewart
Arkansas features an abundance of incredible wildlife. Sportsmen across the United States have traveled to Arkansas to experience the incredible opportunities to appreciate nature and wildlife.
It should be no surprise then, that Arkansas is known for its fishing—especially bass fishing! Largemouth bass have a tendency to grow larger in warmer water, which typically requires a warmer climate. Since Arkansas features an average temperature of 60 degrees F, it should come as no surprise that largemouth bass are known to reach massive sizes in terms of both weight and length in the state of Arkansas.
What's the Biggest Bass Caught in Arkansas?
The biggest largemouth bass ever caught in Arkansas was 16 lbs, 4 oz on February 3rd, 1976. That's right—more than 16 pounds. The bass was caught by Aaron Mardis, who was from Memphis, Tennessee. Mardis caught the state record bass using a rod and reel on Mallard Lake. As a 300 acre body of water, Mallard Lake is located in Mississippi County, Arkansas.
Check out the photo of Mardis' catch here: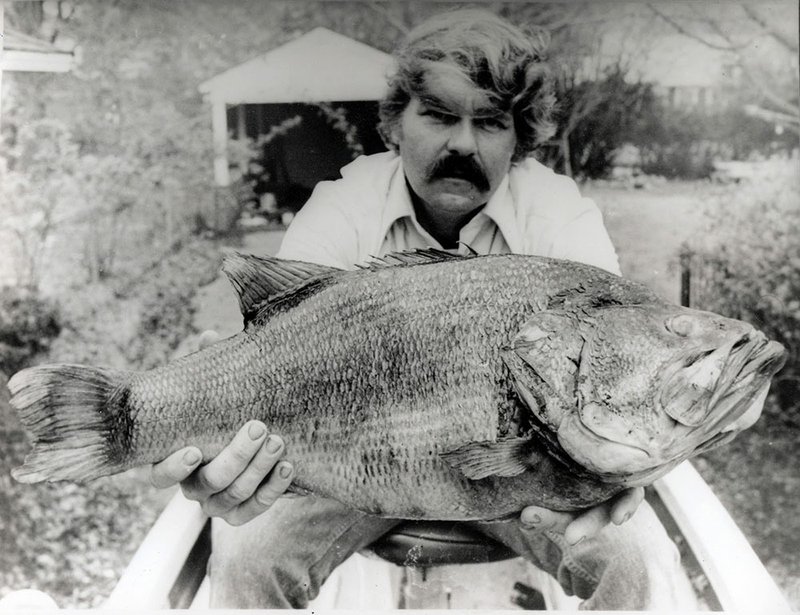 Aaron Mardis poses with Arkansas largemouth bass state record, weighing a whopping 16 lbs, 8 oz.
Where was Arkansas' Biggest Largemouth Bass Caught?
Arkansas state record largemouth bass was caught in Mallard Lake, which became extremely popular after the catch in 1976. The lake is situated in the Big Lake Wildlife Management Area, which is owned, operated, and overseen by Arkansas' Game and Fish Commission. Big Lake WMA is part of a massive nature preserve, where Arkansas aims to protect 12,000 acres of marshy wildlife.
Mallard Lake offers a public boat launch and easy access to incredible fishing. There's even a fishing pier which has access via wheelchair, and is known for an abundance of catfish, redear and bluegill sunfish, and crappie—in addition to largemouth bass of course.
Arkansas State Record Largemouth Bass Controversy
We all know that largemouth bass fishing can sometimes be difficult - but bass get so large in size that anglers love the challenge! On February 28, 2012, Paul Crowder caught a 16 lb, 5 oz largemouth bass on Lake Dunn (71 acres) in Cross County Arkansas. While this bass was one ounce larger than the previous record holder—Aaron Mardis—it was later determined that Crowder did not possess a valid fishing license at the time of his catch.
For that reason, Crowder's catch was invalidated in the eyes of the state of Arkansas. Crowder's bass is not listed in Arkansas' state record books, and Crowder was subsequently charged due to his illegal action.
To this day, Mardis largest bass—weighing 16 lbs, 4 oz.—remains the biggest largemouth bass ever caught in the state of Arkansas. To make the situation even more interesting, bass in the southern United States are typically larger than those in the norther region. For example, Ohio's biggest largemouth bass weighed in at just over 13 pounds, which is 3 whole pounds lighter than the record in Arkansas.
Do you think this article was interesting? Share it with a friend!